MYRAY has travelled to several festivals this summer. As a cool gadget on the camping area, MYRAY provided free solar energy to the visitors.
We used MYRAY to inflate air mattresses. It´s fast, easy and free, so a lot of visitors took advantage of the offer: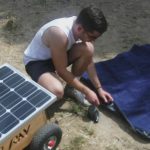 Another use case is the operation of cool boxes,to keep food and drinks always fresh.
During the wonderful wheather MYRAY had a lot of power, so smartphones, tablets and cameras have been charged: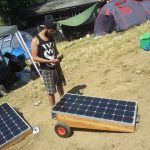 One of the best features MYRAY can offer is the possibility to operate fairy lights, music systems and many different kinds of lights:
MYRAY is the perfect companion for any kind of outdoor activity. It also is the best alternative to the ordinary fuel generators, which are noisy and stink. It´s very handy designed and easy to transport, due to the fortified wheels. And all these advantages are completely without any negative environmental influences. You are totally based on decentralized solar power and so you don´t have to refuel the generator. MYRAY makes your summer dreams come true.