In a recently published blog post by the renowned company s::can, our monitoring station WAMO is presented as a pioneer in water monitoring. The post highlights our platform as groundbreaking technology and emphasizes our significant role in monitoring water quality in collaboration with s::can. You can find the blog post here.
The blog post takes you to the Großer Woog natural swimming lake in Darmstadt, where we successfully deployed our innovative WAMO 300 platform as part of the "Smart Water Darmstadt" project. The WAMO platform, a floating platform powered by solar energy and equipped with satellite navigation, enables precise real-time transmission of position and water level, ensuring continuous and accurate monitoring of water quality.
By integrating the advanced spectro::lyser spectrometer probe from s::can into the WAMO platform, we have elevated our water monitoring to a new level. The spectro::lyser probe is capable of measuring a variety of parameters in the lake and detecting changes in water quality at an early stage. By measuring important parameters such as chlorophyll A or water turbidity, harmful algal blooms, for example, can be detected in a timely manner, and preventive measures can be taken.
The blog post emphasizes the challenges of investigating surface waters, as traditional sampling and laboratory analysis methods are time-consuming and resource-intensive. This is where we, together with s::can, come in by providing an innovative solution that enables continuous and comprehensive monitoring of water quality. By combining the WAMO platform and the spectro::lyser, data can be captured and analyzed in real-time, enabling a precise and timely response to changes in water quality.
The benefits of this groundbreaking solution are manifold. Our WAMO platform is autonomous and independent of external power and communication networks. Thanks to the combination of photovoltaics and batteries, the platform can continuously supply power to the probe. The satellite-based accurate measurement of water level and position allows for precise data collection, which is invaluable not only for water monitoring but also in flood scenarios.
The collaboration between e.Ray and s::can has brought forth a pioneering solution that makes a sustainable contribution to water monitoring. With the WAMO platform and the spectro::lyser technology, we are setting new standards in monitoring water quality and enabling a timely response to changes. We are proud to be at the forefront of this innovative development and will continue to work on providing solutions for improved water quality.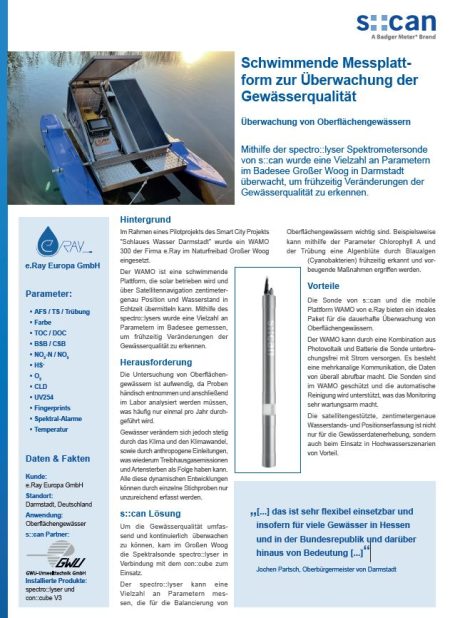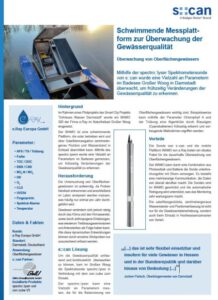 Here is a summary of the collaboration between e.Ray and s::scan.